Image via Mozy
The Mozy is a thermal wrap that keeps your lower-half warm and toasty in the great outdoors.
Just about everybody loves spending time in the great outdoors. For some, that means things like camping, hiking, and fishing. For others, it means going for walks, hanging out with friends and family, or even watching sports. But not everybody loves the cold. 
Back in the day, only the most hardcore outdoor adventurers would dare to tough it out when the weather was cold, wet, and windy. The rest would just pack it in from October through March. It was simply too difficult to fight off mother nature. 
But these days, things are different. Thanks to the combination of high-tech fabrics and cutting-edge design, today, there are all sorts of excellent products that make life outdoors bearable during the cold weather months. And one of the most innovative is the Mozy. 
Image via Mozy
The Mozy was invented by a dad who was sick and tired of freezing his butt off in the bleachers while his kids played soccer during cold weather. Traditional blankets were easy to wrap up but couldn't keep out wind or moisture. Stadium blankets could handle the weather, but it was too difficult to keep them on. And snow pants were…well, they were snow pants. So this dad decided to come up with a better solution. And the result is the Mozy.
Billed as a jacket for your legs, the Mozy is a high-tech thermal wrap or wearable blanket that lets you stay warm without limiting your mobility. It has elastic at the top to keep it snug around your waist and is secured with velcro down the sides to ensure the heat stays in, and the cold stays out. And when you stand up—whether it's to cheer your kid's team or throw another log on the fire—the Mozy stays in place. 
The upgraded Mozy 22 features a heavy-duty textured nylon shell with a comfortable fleece lining, so you stay warm and comfortable in temperatures well below freezing. However, there are also lighter versions designed for less extreme temperatures and even indoor use.

Perfect For Just About Everything You Do Outdoors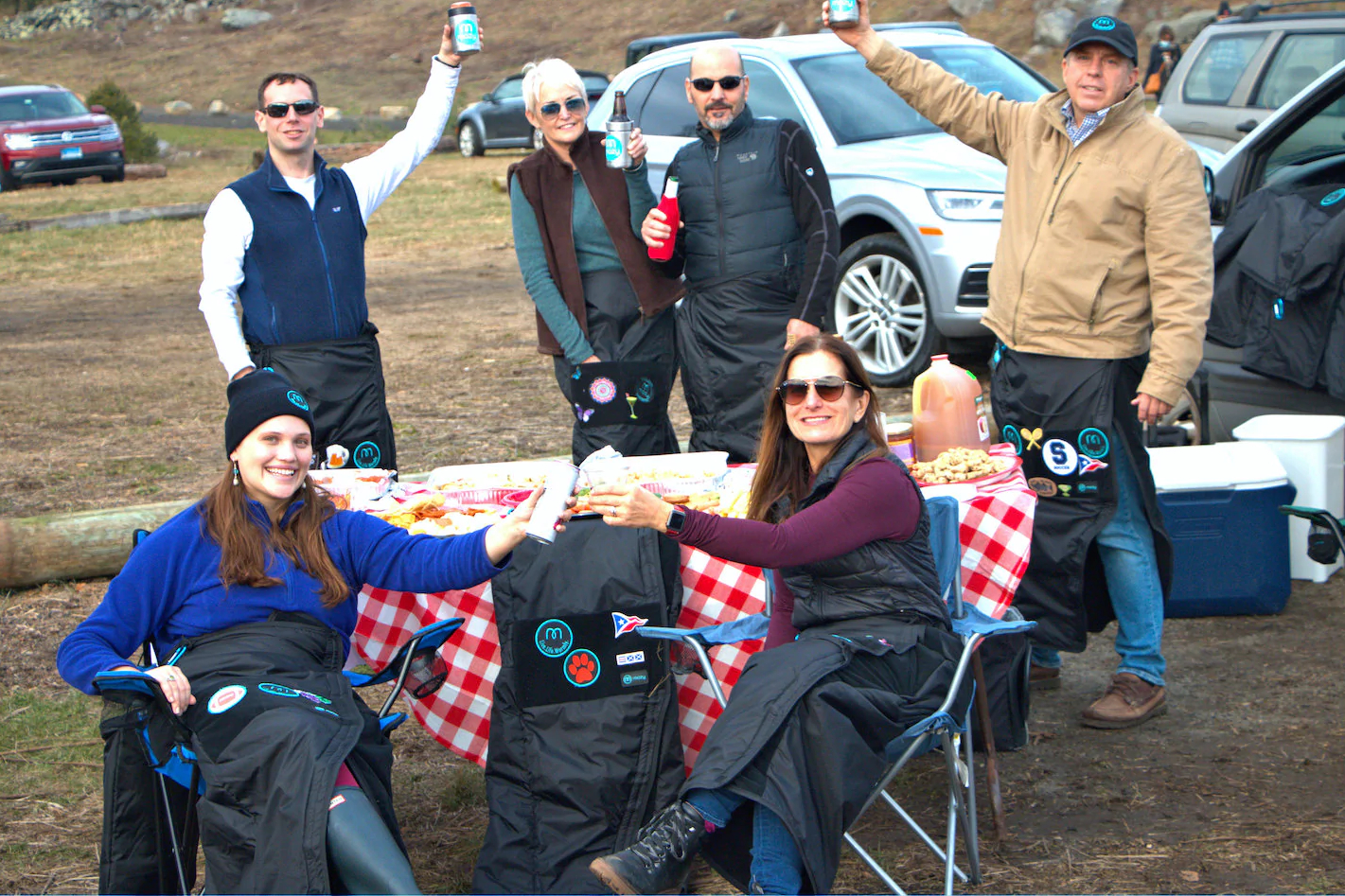 Image via Mozy
Of course, as you may have already realized, the Mozy is perfect for just about any outdoor activity. Camping, fishing, hiking, skating, skiing, tailgating, watching sports, going on hayrides, roasting marshmallows in the backyard fire pit—whatever you like to do in fall and winter, the Mozy can keep you warm and comfortable without slowing you down. And for those of you who might be wondering, it's even flame-retardant up to CAL-117 standards.

The Mozy also features pockets that are perfect for hand-warming and storing water bottles, small tools, and other common accessories. And when it's time to pack up, just close your Mozy, fold the top and bottom back with the VELCRO strip facing up, press, and you're good to go. And it weighs just over a pound, so it won't weigh you down when it's not in use.
As already mentioned, the Mozy comes in three levels of warmth, four sizes ranging from youth to adult tall, and nine different color combinations. So there's a perfect Mozy for everybody. And right now, you can save up to 30 percent when you buy two or more.
So, if you love the outdoors and don't want to take up knitting and board games every time the birds fly south, do yourself a favor. Click here and order your Mozy today.