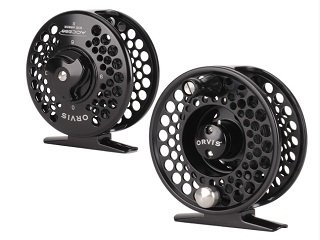 With so many products being released throughout the year, it can be quite easy to overlook quality tackle during trips to the local outdoor retail store. It is for this exact reason that I enjoy writing Tackle Reviews each month. Not only does it allow me the opportunity to scour fishing tackle, but it enables me to provide you all with details on some of the products I believe deserve a little more attention, due to amazing design or innovation. This month, I chose to highlight something I've never reviewed before: a fly fishing reel. Keep reading for details on the Access Mid Arbor reel from the legendary fly fishing company, Orvis.
The Access is a serious arbor reel. It's crafted from machined aircraft bar stock, a common structural alloy used in the aircraft industry, which gives it higher strength and durability, especially under stress. Furthermore, the reel possesses a sealed drag made up of carbon and stainless steel, which doesn't need any lubrication. These materials combined allow the reel to perform like a reel three times the price.
Smaller in size than many arbor reels, the Access certainly doesn't let that affect its performance. It has been improved with a faster retrieve that picks up line quickly and less coil, and comes with a larger handle and a click drag system. The reel fishes with the benefits of a large reel, but does so in a more convenient size, which many have found to give them more control.
The Access Mid Arbor reel from Orvis varies in price, depending on which size you purchase. The great thing, though, is that it's available in five sizes, which cover a variety of species. The reel starts at $135, and increases to $175, with spare spools starting at $75 and topping out at $95.
What causes many people to shy away from fly fishing is how expensive it can be. This is understandable, as the sport does tend to involve pricier tackle. What Orvis' Access brings to the table, however, is the craftsmanship, performance, and feel of a crazy expensive arbor reel, all combined in an easily affordable package that will have fly anglers lining up to grab one. If you've been on the fence about trying your hand at fly fishing for a while, simply due to the cost, I suggest stopping by your local retailer and talking to the associates about Orvis' Access reel. Such an affordable, yet amazingly high-performing, reel may be just the thing to help you get over that hesitancy and discover a new love for fly fishing!