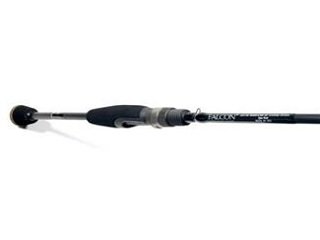 Fishing rods are an integral part of an angler's arsenal, yet they're one of the few things that anglers are always hesitant about spending a lot of money on. For the average—or even above average—angler, this is understandable, especially when most tend to spend the majority of their budget on a high-performance reel. If you know what to look for, however, you can find quality rods without breaking the bank, thanks to companies such as St. Croix, Bass Pro Shops, and Falcon, who offers the subject of today's Tackle Review, the very affordable BuCoo spinning rod.
Falcon's BuCoo rods are comprised of FXB graphite blanks, which are made in America. The rod also possesses Fuji components, including line guides and an exposed Fuji floating reel seat, which increases sensitivity. Much like Bass Pro's CarbonLite, the rod is equipped with a split grip handle and EVA foam grips, all of which combine to reduce weight (the rod weighs less than 4 ounces) and increase sensitivity when fishing.
The BuCoo rod is available in six different models currently, ranging from a five-foot ultralight model all the way up to a seven-foot heavy model. Each model is one piece, to ensure maximum integrity, but there are also two different handle types available—one shorter than the other—which partner nicely with their designated rod length and action.
Any angler who's spent time on the water will recognize Falcon as one of the best rod makers out there right now. Like G. Loomis, though, they're a company known for very high quality, but somewhat expensive rods. Now, such rods appeal to pros and anglers with big budgets, but your average angler just doesn't have the means to invest in the most expensive tackle on the market. Falcon knows this and appreciates this, which is where the BuCoo rods come into play. Designed to appeal to anglers who don't want to spend bucoo bucks on a rod, the BuCoo rods possess amazing craftsmanship and performance, all for between $89.99 and $109.99.
I personally prefer to keep my rod budget under $125, and I know I'm not the only one out there who shares this preference. It's not that I think rods are any less important than reels, though—I don't like to spend more than $150 on a reel if I don't have to. Falcon is known for unwavering dedication to craftsmanship and performance on he water, and the BuCoo delivers in spades! For anglers who share my budgetary concerns, or shoppers looking for a great gift for the angler in their family, the BuCoo spinning rods from Falcon are well worth the investment and are quite easy on your wallet.