Whether you are a beginner or an experienced hunter, a good pair of hunting binoculars can help you improve your success.
Having the best hunting binoculars is an essential part of any hunter's gear. Some consider them as important as the rifle.
Use your hunting binoculars to scout hunting ground and get a better view of your surroundings, wildlife and potential targets with greater clarity and precision. They are extremely helpful when visibility is compromised, or at least reduced, and when terrain makes approaching your game difficult.
Of course, not all binoculars are the same, and finding the best hunting binoculars can be a daunting task if you don't know what to look for. So, what should you be keeping an eye on when buying hunting binoculars?
Objective Lenses
As a general rule, the larger the size of the objective lens, the better your binoculars will perform in low light settings (early morning, late afternoon, early evening etc.). However, the bigger the objective lenses are, the binoculars as a whole are bigger, heavier, and generally pricier.
Magnification
The bigger the magnification is, the harder it is to keep the image in the binoculars still. Plus, it reduces your field of view. Finally, the magnification you should use depends on the terrain you are in.
For example, it's better to choose binoculars with low magnification when hunting in the woods so you have a wider field of view when looking through it. However, if you are hunting in open or mountainous terrain, you'll need binoculars with the ability to see and magnify game from a greater distance.
The Rest
Small differences and additions that might be useful often raise prices a lot. Hunting binoculars with special lens coatings give you the ability to enhance the visibility of certain colors (browns and reds) which in turn help you spot hidden game.
Some have built-in LED displays showing you the distance to the object you are viewing or other ballistic info, depending on the system. The form or shape of the eye cups is another thing to think about. Basically, they are used to keep a set distance between the binoculars and your eyes, and they keep external light away from your eyes while looking through them.
You can find quality hunting binoculars at prices ranging from $100 to more than $2,000 depending on features and brand. Unless you are a professional, you really don't need the pricey ones.
Affordable hunting binoculars, like the ones in our list below, more often than not offer a lot more than their price tag suggests.
Bushnell Legend Ultra HD Roof Prism Binocular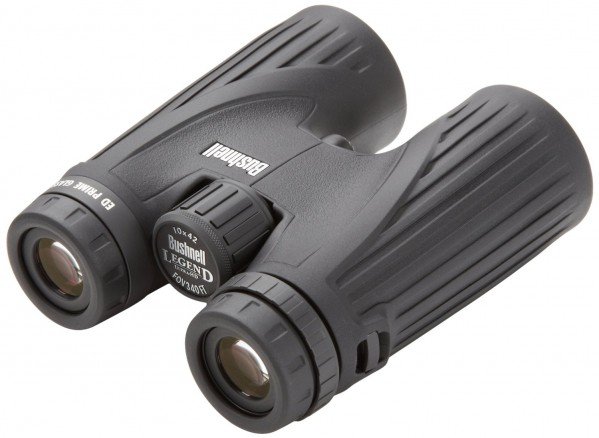 Lightweight, with an ultra-wide field of view, a long eye relief and the simple fact that it is waterproof and fogproof, the Bushnell Legend Ultra HD Roof Prism Binocular is one of the best hunting binoculars in its price range.
10x magnification, 42mm objective lens binoculars
Close focus in ft/m is 6.5/1.9
The field of view at 1000 yards is 340 ft
Exceptional optics with ED Prime Glass, Ultra Wide Band Coatings, and RainGuard HD water-repellent lens coating
MSRP $230, Check it out on Amazon here.
Nikon 16002 PROSTAFF 7S 8×42 Inches All-Terrain Binocular
This is an excellent choice as a general purpose binocular for all terrain. The lightweight, rubber, armored body is perfect for any weather condition.  It has great color and clarity thanks to Fully Multilayer Coated lenses and Phase Correction Coated Roof Prisms.
8x Magnification, 42mm objective lens
The field of view at 1000 yards is 340 ft
Fully Multilayer Coated Eco-Glass Lenses
MSRP $190 — Check it out on Amazon here.
Steiner AZ830 Binocular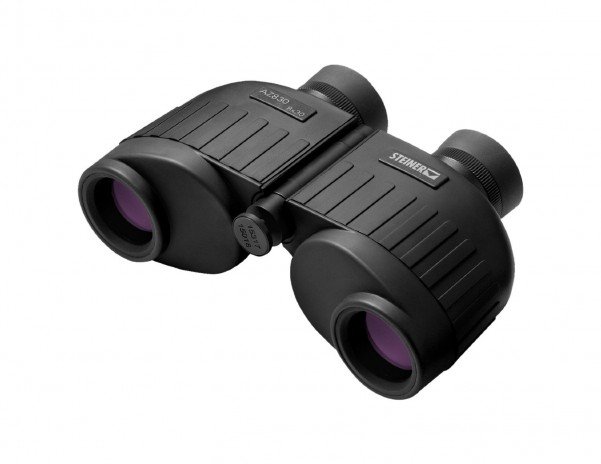 Don't be turned off by the fact this is a special run of Steiner Military/Marine 8x30s done exclusively for Amazon. These are still original Steiners made in Germany with great auto focus and sharp, clear images for a low price.
8x Magnification, 30mm objective lens
Floating Prism System
Sports-Auto Focus System
MSRP $140 — Check it out on Amazon here.
Zeiss 8×42 Terra ED Binocular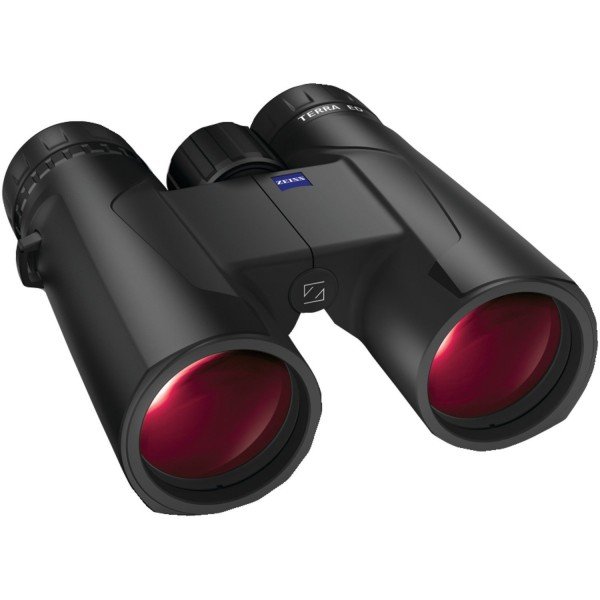 In case you are out on a swampland or near a river, use this one. Not only does the Zeiss Terra nitrogen-filled housing provide water and fogproof performance, it can also withstand submersion to a depth of approximately 3ft. Better safe than sorry!
8x Magnification, 42mm objective lens
56° apparent viewing angle, 375 ft (114m) field of view at 1000 yd
SCHOTT Extra Low-Dispersion Glass
Schmidt-Pechan Roof Prism Design
MSRP $350 — Check it out on Amazon here.
LEUPOLD BX-3 Mojave Pro Guide HD

At Leupold, they say this one is build with professionals in mind. Specs sure say the same, since the BX-3 Mojave Pro Guide HD is packed with high-definition, specially-coated, extra-low dispersion lenses that give razor-sharp resolution and color to easily pick out game in heavy brush. It's a few bucks more than the rest for a good reason.
8x Magnification, 42mm objective lens
High Definition lenses with smooth focusing
Angular Field of View 7°
MSRP $540 — Check it out on Amazon here.
Swarovski CL Pocket 10×25 Binoculars Green
Small and pricey, I know. But it's Swarowski. Great optics as always with Swarovski; high contrast, sharp, and true-to-life color images. They sport surprisingly big and comfortable eyecups for a binocular of this size. They are dust, dirt, fog, and waterproof, and they can withstand submersion to a depth of approximately 13 ft. A powerful little package with big price tag.
8x Magnification, 25mm objective lens
The field of view at 1000 yards is 294 ft
Field Bag – Carrying Strap
MSRP $880 — Check it out on Amazon here.
Let us know what you think are the best binoculars for hunting in the comments section below.
© Mjth | Dreamstime.com – Woman with Binoculars