In the ongoing battle against invasive Burmese pythons in Southern Florida, 2016 could be the year wildlife officials and conservation groups started to turn the tide. 
Over the past 90 days, researchers with the Conservancy of Southwest Florida removed enough pythons to weigh a total of 2,000 pounds, the equivalent of an entire ton, from Collier County. Now that's a lot of snakes. 
The largest snake they captured reportedly measured 15 feet in length and weighed 140 pounds. Biologists for the group credit research methods conducted over the past three years that has given them a better idea of their breeding habits and where the pythons migrate. 
Researchers first captured and tranquilized select pythons for tagging. By placing a receiver embedded under the reptile's skin, the group was able to track the snakes and better understand their movements. As a part of the study, 20 snakes were tagged, 50 were euthanized while 375 eggs were removed and prevented from hatching. 
One discovery revealed that as many as seven pythons breeding in one location. In one gopher tortoise burrow discovered through one of the tagged snakes, there were six male pythons ranging from seven to 12 feet in length and one female python that was 13 feet long and weighed 75 pounds. 
The information led the group to perform a sweep of the area during the first three months of 2016. 
The efforts by the conservancy group parallel that of the state. This year marked the first Python Challenge, which Florida wildlife officials endorsed as a fun way to raise awareness of the problem and encourage their removal. This year 106 snakes were removed from the Florida Everglades as part of the event, which ran from Jan 16 to Feb 14. 
If you've never handled a python and want to get in on the action, here are some helpful pointers.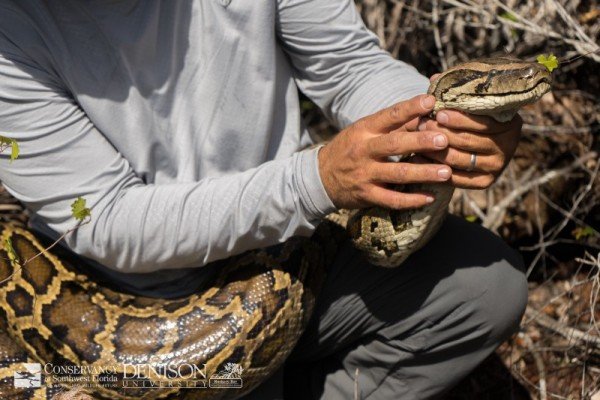 Photo credit: Conservancy of Southwest Florida