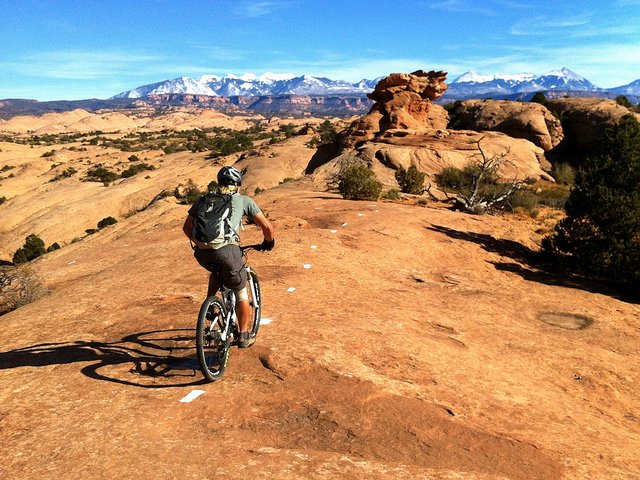 For mountain bikers across the country, there is no other place that symbolizes the mecca of riding like the state of Utah. A combination of the high desert and mountainous terrain makes for some of the best riding in the world. The magnificent geologic features with rock faces that rise from the earth, weathered by the ages, makes almost every choice of trail here a ride to remember.
When it comes to mountain biking Utah, the first thing to consider is where you would like to visit. There are two distinct areas that draw the most riders to the state and that's in the southern border with Arizona near Zion National Park and the other being around Moab near the Colorado border.
Another consideration is whether to bring your own bike or rent one. For many riders, their bike is as personal as anything, so not bringing your own bike would be unthinkable. For others, renting is an opportunity to ride something you might not otherwise afford.
Also to keep in mind is whether you will be hitting the trail with a guide service such as Utah Mountain Bike Tours or Utah Mountain Biking Adventures in the south.
For any of these trails, whether in the spring or summer, it's best to tackle them as early as possible before the desert sun gets too hot. Here are six of Utah's top trails not to pass up in this lifetime:
The Whole Enchilada
Outside the town of Moab, there is a ride that has mountain bike riders talking about for years for to come. The Whole Enchilada, which combines popular trails such as Porcupine Rim, Hazard County and Burro Pass is 26 miles of some of the best mountain biking anywhere in the country. After a steady uphill climb, the trail veers into downhill single-track through wooded forests, open prairies and miles of screaming downhill.  The Porcupine Rim section of the trail is an extremely technical downhill portion that nears the ledge of a giant cliff, definitely not one to take lightly even for the experienced rider.
Slick Rock 
Slick Rock outside Moab, Utah is arguably one of the best known mountain bike trails in the country, which doesn't necessarily mean it's the best. It's not one to miss either as the landscape is something totally otherworldly. With its desolate landscape and slick rock surface, the trail offers short bursts up and down in a 12-mile loop. Some riders don't care for the steepness of some of the drops, but the pure uniqueness of this trail makes it one of Utah's most noteworthy. 
Captain Ahab
For one of the Moab's most technical rides, check out Captain Ahab.  This 4-mile loop begins up a rocky 4X4 trail before the fun begins down a technical single-track that's not as difficult as slick rock or exposed as porcupine, but harrowing in parts nonetheless. You can combine with this trail with Amasa Back Area for a more advanced 20-mile loop.  
Hurricane Rim Loop 
Outside of Hurricane in southern Utah there is the classic riding area known as the Hurricane Rim Loop. By combining the well-known JEM trail, Hurricane Rim and Gould Rim you can create a 21-mile loop. The Hurricane Rim portion is just like what it sounds, a trail on the edge of a rim, which is somewhat of a theme in Utah. Be sure to keep a solid grip on those handle-bars as any small groove could be your downhill. They are both in close proximity to the classic riding area known as Hurricane Rim. 
JEM Trail 
The JEM trail portion of the Hurricane Rim Loop is best known for its quick single-track that twists and turns down a technical descent. You can choose to shuttle this portion of the trail or turn it into a 13-mile loop with an uphill climb worthy of the downhill rewards. Travelling above the Virgin, Utah, this trail offers supreme views of sandstone formations that will have you wanting to do it all over again once you catch your breath. 
Gooseberry Mesa
 The ride at Gooseberry Mesa near Hurricane and Virgin, Utah in the midst of Zion National Park is widely regarded as one of the most scenic rides in the country.  If there's a bucket list for mountain biking, Gooseberry Mesa finds itself listed probably more than any other, at least it should in our book. But don't let that fool you into thinking this is an easy ride. In fact, most riders would rate it a double black diamond for its slick rock twisty single-track. On top of a mesa with gorgeous views of the National Park, this is a trail where you will literally meet people from all over the world.  
Photo credit: Flickr Creative Commons