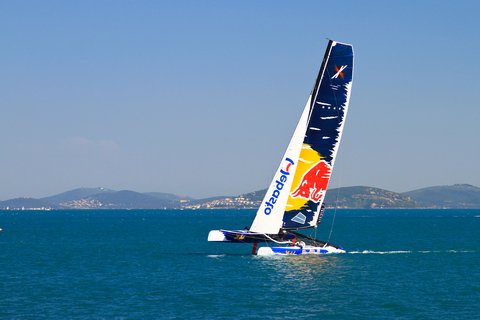 Sailboat racing conjures images of blue blazers, gliding yachts and trophies. You know, gentlemen's sport. The reality is that sailing and racing give way to faster and lighter designs and obscenely efficient sail plans.
Anyone who's checked in on the America's Cup series recently knows the boats have morphed into kinetic spaceships designed more to fly than to float. The crew wear helmets and crashes happen frequently.
One race series, created to inject some real excitement into the sport for spectators is the Extreme Sailing series with "stadium sailing" matches held in port cities across the globe; the next one slated for Hamburg, Germany July 23 through 26.
Stadium Sailing is a term used to describe races that do not involve yachts so far out to sea that boats are required for viewing. These sailors run the Extreme 40, a high performance multihull that can reach speeds of 35 knots. That's around 40 mph. For reference, traditional sailboats often max out at 8 or 9 knots.
The thing about speed on a sailboat is that the urgency comes from multiple directions. Things flex and break or flip over, and maintaining the speed means a crew smartly maintaining a sail set to continue riding the wind and waves. It's a team sport, a high speed balance, and a feat of hydrodynamics all in one.
The Extreme series offers grand prix style racing with short competitions run on tight buoy courses, boats cutting through the water at close range. Extreme 40s often flies a hull, meaning half the boat is out of the water, making stability of the utmost for the crew.
Still, flying a hull means less wetted surface and increased speed. In the Extreme Sailing arena, collisions are not uncommon. The carbon fiber construction is strong but light, and less-than-forgiving when crunched. To watch a race is to understand the need for the helmets. No blue blazers here.
© Evrenkalinbacak | Dreamstime.com – Extreme Sailing Series Photo