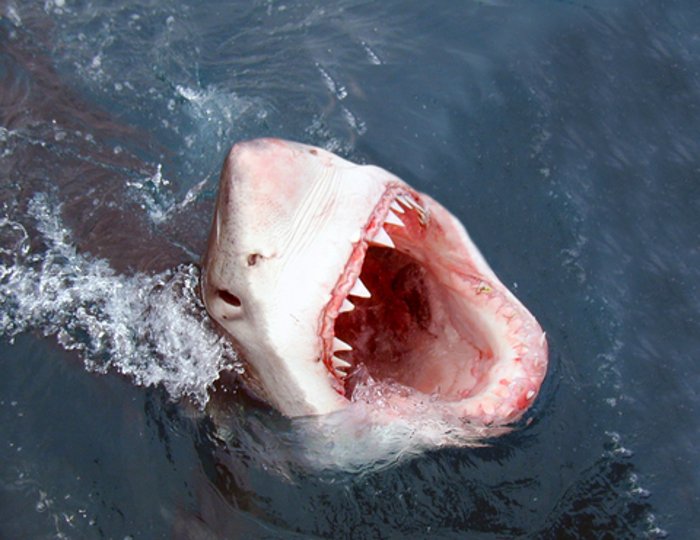 More than any other in recent history, the summer of 2015 has been the summer of sharks. With attacks on swimmers and kayak fishermen from coast to coast, shark attacks have filled the airwaves. Biologists say warmer ocean water and an abundance of fish have driven sharks closer to shore. Coupled with more people swimming in the ocean and there's bound to be more attacks. 
This week saw another indication that shark activity has shifted north as the first documented great white shark attack on a sea lion was recorded in the San Francisco Bay.
In a video captured by tourist Meredith Coppolo Shindler to Alcatraz Island, a massive great white shark can be seen just seconds after making an initial strike on what used to be a seal or sea lion. Just a giant pool of blood and pieces of flesh remain. 
The video was shot by a mother escorting a group of young boys, who can be heard in the background marveling at the extraordinary scene.
"Holy crud!" one of them says. 
"It's heart is floating away," says another.
"It's Jaws!" says another young man in the group before breaking into the theme song. "That's the awesomest thing I have ever seen."
While the scene is the only recorded documentation of a great white shark attack in the bay, it's not unlikely they would be around, according to the San Francisco Chronicle. The San Francisco Bay marks the upper terminus of what's known as the Red Triangle, the breeding ground territory for great whites. The predators, which can reach lengths of up to 21 feet, migrate between Monterey Bay, the Farallon Islands and Bodega Head.
This year, an exceptional number have been spotted in Monterey, and while people have never witnessed an attack within the bay, great whites have been spotted under the Golden Gate Bridge and even sharks that were tagged have traveled into the bay. 
It's not the first time a shark attack was reported within the bay either. The Chronicle found a 1926 case where a man and his dog reportedly sustained injury from a shark attack. Not sure how both man and dog could be attacked, but okay. 
One marine biologist told the Chronicle that sharks in general have moved further north this year. 
"It's not so much the abundance of sharks. It's that the center of gravity has shifted somewhat north," said Sean Van Sommeran, the executive director and founder of the Pelagic Shark Research Foundation in Santa Cruz. "Some of the fishing camps in Baja, the small fishing villages in the Sea of Cortés, that used to have white sharks are now empty."