Hiking is a favorite Colorado activity and the Colorado Trail is the state's premier long-distance trail, stretching nearly 500 miles from Denver to Durango with an average elevation of over 10,000 feet.
Trail users who cover the entire distance will experience six wilderness areas and pass through eight mountain ranges topping out at 13,271 feet just below the summit (13,334 feet) of Coney Mountain. Do the math: if you hike the trail from Denver to Durango you'll climb 89,354 feet.
This is a popular multi-day and day hike destination and a huge dog-friendly zone where few restrictions are placed on hikers who want to bring their canine companion along for the fun. Dogs are allowed on all sections of the trail with the exception of Waterton Canyon – the Denver terminus for the trail.
The dog prohibition here is because this area is a bighorn sheep habitat, but Fido can join you at the Platte River Bridge Trailhead or at Indian Creek. There are some marked sections where dogs must be leashed, mainly in the wilderness areas.
Thru-travelers are advised to start their journey no earlier than June since high elevations combined with north-facing and treed slopes often retain snowpack into July making certain areas of the trail impassable.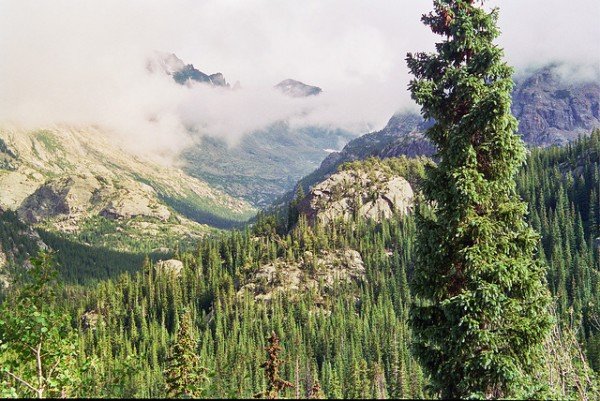 Complete your trip no later than September when snow in the area can be plentiful. The Colorado Trail is truly spectacular but not marked for winter travel and avalanche danger is prevalent in snowy months. Hikers familiar with the area understand that Rocky Mountain weather can be intense and change quickly any time of the year. Be prepared for temperatures ranging from below freezing to the high 80's.
Thru-hikers should plan for 4-6 weeks to cover the entire 486 miles. The Colorado Trail is broken up into 28 segments with access points at each one to make it easy for day hikers to jump on nearly anywhere along its length.
Hikers can even access the trail from the Durango and Silverton Narrow Gauge Railroad. The train can drop you off and pick you up from Elk Park. Taking the train one way and hiking to or from your car is a great loop option.
The Colorado backcountry along the trail has a range of wildlife from bears and mountain lions to mice and insects. Be on the lookout as you hike and avoid any potentially dangerous animal encounters. You'll likely get a glimpse of marmots, squirrels, deer and elk, bighorn sheep and a variety of birds.
Carry adequate rain protection for summer storms and keep off high ridges in the afternoon to avoid danger from lightning. The Colorado Trail Foundation (CTF) helps out with safety and trail information by providing official guide and map books that cover trailheads, access points, services and everything you'll need to know for a trouble-free experience.
Photo credit: Flickr CC