There are ghost towns, and then there are ghost towns.  Some are moldering piles of broken glass, stone and rotted wood, long forgotten with secrets intact.
Other ghost towns are bogus tourist traps selling selfie opportunities with costumed  "local sheriffs." Somewhere in between are real ghost towns that are well worth a visit. We've narrowed it down to our top five recommended ghost towns in the West. 
Bodie, California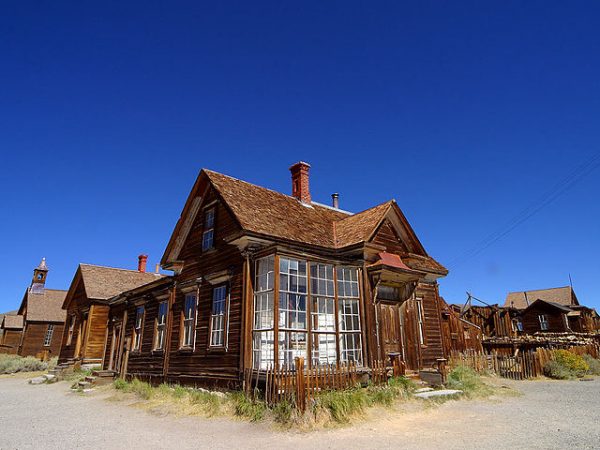 Bodie might be the West's most famous ghost town. As a California State Historic Park, it is in an "arrested state of decay", meaning the state attempts to maintain it exactly as it was when declared a historic landmark in 1962.  It's a common dilemma with the preservation of ghost towns – do too much and they become fakes, do too little and they become a pile of sticks.
Prospector W.S. Body, who discovered gold in 1859 in nearby hills, founded Bodie in 1859. The name change to "Bodie" was apparently due to a sign painter's mistake.  The town population peaked at 10,000, but mining activity ended by the 1940's and the town faded away.
The park is northeast of Yosemite, 13 miles east of Highway 395 on Bodie Road, seven miles south of Bridgeport, California.
Silver City, Idaho
Silver City, Idaho is probably the most authentic western ghost town you can visit.  It's not a park, there's no entry fee, no rangers, no tours and usually no tourists.  In fact, the snows on War Eagle Mountain close it down completely for much of the year.
Located two hours south of Boise, Idaho, Silver City is the last remaining evidence of a series of gold rush boomtowns that dotted the lonely Owyhee  Mountains during the 1800's. 
The history-filled town contains about seventy-five structures that date from the 1860's to the early 1900's. During its "heydays", Silver City had about a dozen streets, seventy-five businesses, three hundred homes, a population of around 2,500, twelve ore-processing mills, and was the Owyhee County seat from 1866 to 1934.
Although there are no year-round residents, a few buildings are still owned by the families whose ancestors build them in the 1800's.  Locals battled the BLM in the 1960's, which claimed the area was government land and residents had no legal claim to their lots.  The locals won and Silver City continues today as a ghost town without the fences, fees, and "don't do this" signs that come with government "protection."
An intrepid couple has been working for years to repair the historic Idaho Hotel, where a few rooms can be rented and a meal purchased.  Other than that and "Pat's What Not" gift shop, that's all the commercial activity – no gas, food, ice, nothing.  You'll need to bring everything you need with you.  There's a gas station and small store at Walter's Ferry on the Snake River some thirty miles away.  Silver City is 20 miles from the nearest paved road, but the dirt road is decent.
Take 45 south from Boise to Murphy then take the dirt road — 72 miles and about a two-hour drive.
Rhyolite, Nevada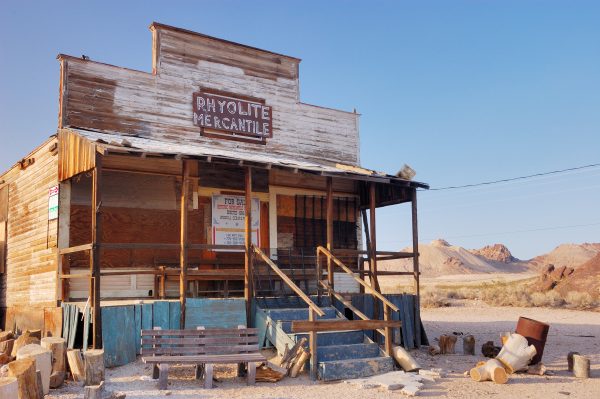 Located just outside Death Valley National Park, Rhyolite like many ghost towns experienced an incredibly short-lived boom. Founded in 1905 based on silver and gold discoveries, the population quickly exploded to 6,000. Three railroad lines came in, along with banks, a red-light district, a stock exchange and 53 saloons.  Unfortunately the mining disappointed, and in less than five years Rhyolite was virtually empty, only a few hundred residents remained.
Rhyolite is on a mixture of federal and private land. It is not within the boundary of Death Valley National Park. The town is 35 miles from the National Park Service Furnace Creek Visitor Center on the way to Beatty, Nevada. A paved road heading north (left) from Hwy. 374 will take you to the heart of the town.
Bannack State Park, Montana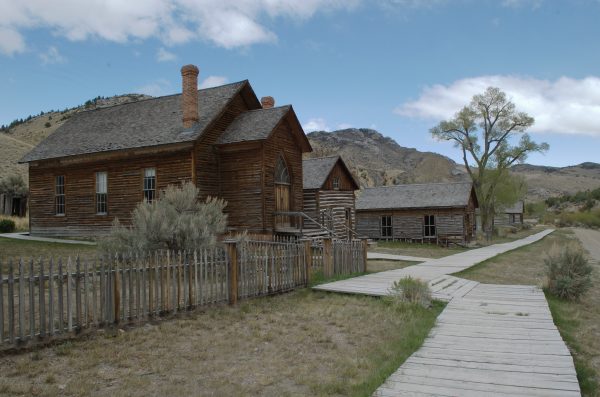 Prospector John White struck gold on Grasshopper Creek in 1862 – Montana's first major gold discovery — and two years later Bannack was named the first Territorial Capital of Montana.  That didn't last long, as the capital was shortly thereafter moved to Virginia City.  Mining continued in Bannack on and off until the 1930's, and the town clung to life until the 1950's, when it was entirely abandoned.
Today it's a state park with more than 60 structures – not offering quite the authenticity of some less manicured and preserved ghost towns, but still of interest.
There's a campground and visitor center open year-round, located at 721 Bannock Road in Dillon, Montana.
Jarbridge, Nevada  (Elko)
Jarbridge was built in a canyon that the Shoshone Indians believed was inhabited by Tsawhawbitts, a grisly man-eating giant.  But the lure of gold overcame any concerns about the giant, and prospectors explored the region during the late 1800's.  There are numerous tales of lost mines and riches still buried in the nearby hills.
The town itself was established in the early 1900's.  It originally was named for the giant,Tsawhabitts, but mangled mispronunciation resulted in Jarbridge  — settlers referred to the town as Jahabich (pronounced "jah-hah-bich"). This evolved until a sign, "Jarbidge," was hung in the town.
The town produced over $10 million in gold before mining operations faded away.  Today there's still a small active town, featuring a bar, trading post, and a B&B among the wooden shop fronts. The remnants of the jail, former brothels, and an old hotel also remain.
You have to work to get to there. It's at the end of 20 miles of dirt road, surrounded by the Humboldt-Toiyabe National Forest in Nevada's empty Northeastern corner, 18 miles north of Jackpot on Highway 93. There are five riverside campgrounds near town for campers.
Photo credits: Wikimedia