For coffee lovers, brewing that perfect cup of java on the trail is always a toss up. Everyone has their favorite methods of making coffee on the go. With the Espro Travel Press you have a stylish travel mug with a built-in French press.
Whether it's trekking in the High Sierras or making an afternoon brew at work, the Espro Travel Press is a fully contained system that makes great coffee anywhere you go.
The travel press comes with two micro-filters that can also be used to brew tea, make pour-over coffee and cold brew. We were recently sent a travel press to try out for ourselves and were impressed with its functionality.
A tight seal on the plunger combined with the micro-filters prevented virtually any sediment from getting in our drink. In that respect it truly was grit free and still had the rich taste we would expect from a traditional French press.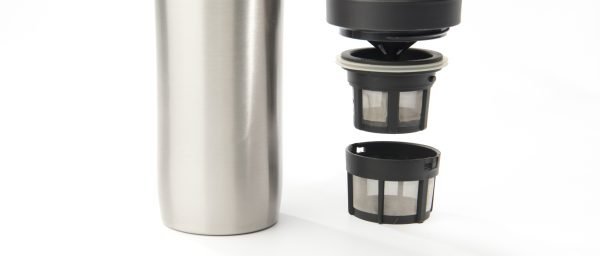 When we used a paper filter within the plunger, the coffee turned out lighter and less oily, the same effect you'd have with a pour-over or standard coffee-maker. We questioned whether our coffee would become too strong if we let it stand, so we put it to the test.
Designers say the extraction stops after pressing down, but we know from experience that in a standard French press the coffee will get significantly strongly. In our view, the Espro succeeded. After a half hour the coffee was rich and not at all too strong.
We did have a slight issue as cream and sugar connoisseurs because you can't actually remove the top without drawing the plunger up. The only way to seamlessly integrate your cream and sugar is to add it during the steeping process. Or conversely you could just pour your brew into a separate cup. Either way, it's a great little unit.
MSRP $37.95
For more information or to buy a travel press visit Espro.