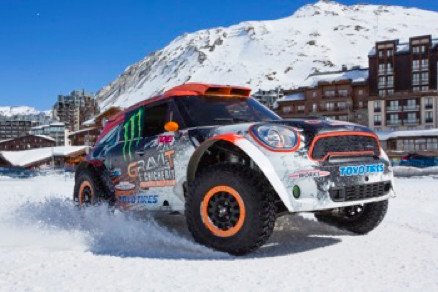 There's a new face in the rallycross world and he's known as the "Flying Frenchie." Guerlain Chicherit has joined JRM Racing to contest the upcoming French and Italian rounds of the biggest off-road contest in the world, the FIA World Rallycross Championship.
After being a former World Extreme Ski Champion, breaking a World Record by back-flipping a car (see video below), winning the FIA Cross Country Rally World Cup and now having 10 Dakar Rallies under his belt, Chicherit will now take on the sharp, short and exciting circuits that make World RX one of the most spectacular championships currently running.
Guerlain will drive one of JRM's race-winning MINI RX Supercars at Lohéac, France and Franciacorta, Italy. The two-event program will mark the 36-year-old's first foray into the ultra-competitive World RX series, where he will be competing against fellow Monster Energy teammates Liam Doran and World RX Champion Petter Solberg amongst other well-known names in motorsport.
Chicherit is keen to take the wheel of the MINI RX Supercar that JRM is developing this season.
"I'm super happy that JRM is giving me this opportunity to drive its MINI against guys like my fellow Monster Energy teammates," Guerlin said according to a press statement. "I've been following World RX closely and I'm very impressed by its growth, today's quality of driving, the atmosphere and the exciting circuits that are on the calendar. JRM is a really progressive team that is fully committed to World RX so I hope we can have a couple of great race weekends. I'll be there to learn as much as possible about the car and the racing, and if I can cause a bit of heat on the track at the same time – even better!"
On competing at Lohéac in France, an event that traditionally attracts a huge crowd of over 70,000 race fans, Guerlain said it will be particularly special for him. 
"I can't wait to see my close friends, fans and the amazing French crowd," he said. "I hope I will be able to do them proud."
JRM Racing Team Principal, James Rumsey, believes Chicherit will be a strong addition to his development team's line up in France and Italy.
"Guerlain's passion for rallycross and the MINI RX is clear and I think he'll perform well in a fiercely competitive World RX field," said Rumsey. "His motorsport experience is extensive and that will serve him well in a category of racing where natural speed and the ability to set up a car are critical."