A second body was recovered early Thursday off the coast of southwest Florida where rescue crews were searching for a missing family since Sunday.
But despite the chilling discovery there remains hope that some members of the crew, 45-year-old father Ace Kimberly and his three children, aged 13, 15 and 17, might still be alive.
A Coast Guard search crew reported seeing a flare shooting in the air around 2:30 am Thursday morning in the area of the search. On Wednesday, the first body was discovered wearing a life jacket. They also found debris from their boat including kayaks and personal belongings.
Personal items located off the coast of Sanibel, Florida, believed to belong to missing family. pic.twitter.com/rCjvJzD3zk

— USCGSoutheast (@USCGSoutheast) June 22, 2016
The family left Sarasota to sail for Fort Myers in their 29-foot sloop when the weather turned bad. Kimberly reportedly contacted his brother to say they were facing 6-foot waves and thunderstorms. 
Sadly, it appears the boat capsized leaving the family to the Gulf Coast waters. Along with more personal belongings and debris, searchers found the boat's mast on Thursday, indicating a violent turn of events. The family had reportedly been living aboard the boat in Sarasota and were taking it to Fort Myers for repairs. 
"As a father of four, I know how devastating these findings are to them, and we're cognizant of that and we're trying to treat them with the utmost respect," U.S. Coast Guard spokesman Captain Gregory Case told WFTV. "This is still an ongoing search and rescue. We still have three persons out there that we're trying desperately to locate. We are doing everything we can and throwing everything we have at this search at this time."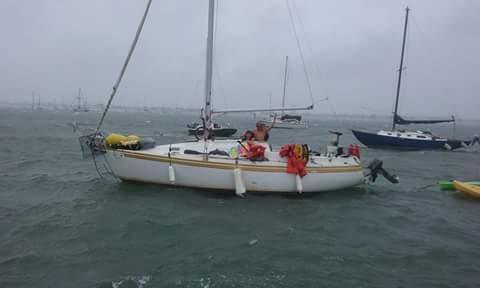 Photo credit: Twitter @USCGSouthwest