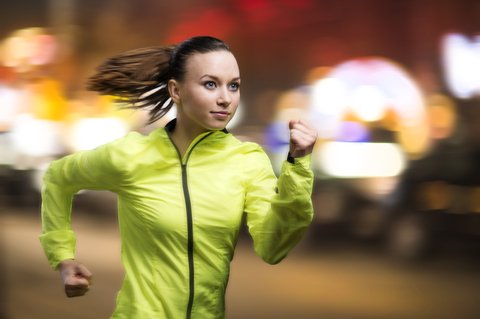 You're tired and it's past sundown. Well here's a product that will motivate you to keep moving or get left in the dark. The Million Mile Light makes you the battery, keeping the light flashing as long as you're running or hiking briskly.
Best for urban runners and bikers, this gadget from startup Positively Human doesn't have an internal battery, but rather it converts the motion of movement into the electricity needed to power the four ultra-bright LED lights. It weighs just 1.3 oz. and can be strapped on – a waistband or wrist strap is included – and once you get moving the safety light flashes to keep you visible from distances of up to 650 feet. Million Mile Light is designed to burn for 100,000 hours.
It's waterproof, weather-resistant and provides a 120 degree fan of light. It uses neodymium rare earth magnets – which actually aren't really rare at all, being as common as copper or nickel. But those magnets mean Million Mile Light comes with some caveats: you shouldn't wear it if you're pregnant or wear a pacemaker, and you should always wear it a minimum of 6+ inches away from other electronic devices like watches and fitness monitors.
The light was designed to light up during vigorous running, but it also operates well when you walk or hike at a brisk pace.
The smooth user-friendly design smartly combines two technologies, efficient LED lighting and portable kinetic energy generation. While design has been finalized after trials with more than 100 prototypes, the maker Positively Human still needs money to get the assembly lines rolling. To that end, they have launched a Kickstarter campaign and are offering Million Mile Light at pledge levels of around $19. 
The designers, married couple Tom and Charlie Lawton, hope that their innovative product gets adequate backing via the Kickstarter campaign and that it will have a very bright future.
Photo credit: Dreamstime