Outdoor gear has come a long way since the War Surplus days of the early 1950s. Today, rather than outfitting with unused combat gear, our tents, cookware, and survival accouterments have become decidedly high-tech.
We took a look at five such items that could not only augment your equipment list, but could make you the envy of other adventurers as well.
Kodiak Canvas Tent
The first, and decidedly low-tech item is the Kodiak Canvas Swag Tent. The beauty of the design is that it is a classic bedroll with a tent attached. The idea is that you can set up on the trail, in the back of your truck, or on a cot. And the material is classic as well: canvas duck cloth, guaranteed not to wick water. Of course, the cotton is silicone infused, making it a bit of a departure from the standard duck cloth.
The one person tent is 6 feet 8 inches long and has a built in two-inch foam mattress. it even comes with windows and a roll out door mat. At 17.5 pounds, it's not exactly a back country item, but it's roomy and durable. A major selling point is how quickly the Swag Tent rolls out and packs up. You can pick one up for just under $300.
Velocity Grill
Another fine bit of gear is the Velocity Grill. Combining the efficiency and flavor of wood-fired cooking with electricity, this product uses a blower fan to direct and respirate the fire. It's capable of reaching temperatures above 1,000 degrees F in minutes. And with a 13-inch grill top, you'll be the culinary star in any outdoor situation. The entire grill weighs 17 pounds, so don;t imagine packing it, but it will certainly enhance any basecamp evening. Pick one up for just $130.
What's also cool is that the grill found its way to reality through a Kickstarter campaign. Just one more product born of outdoor imagination.
Rescue Me Balloon
Here's one that makes us think, "How did we not come up with that?" The Rescue Me Balloon is a personal rescue beacon, no larger than water bottle, that lets any stranded adventurer pinpoint their location. When deployed, the ballon ascends to 150 feet with a bright LED beacon. Another Kickstarter original, the Rescue Me Balloon actually did not make its fundraising goal, but backers made it happen anyway. At only $75, this is a solid survival item. And as an added feature, a green version of the balloon can be deployed as a non-emergency beacon, to mark base camp while adventuring. And the flashing LED signal will last for a week. That's plenty of time to get rescued, we think.
Pure2Go Water Purifier
Worried about water quality? How about the Pure2Go. This compact travel purifier does more than block bacteria. It also removes waterborne viruses. And while it is advertised to work in seconds, its creators also designed it to double as a pump for both water and air. But at just $95, the Pure2Go is a good value. And this one was also raised $28,000 on Kickstarter.
Macro Booms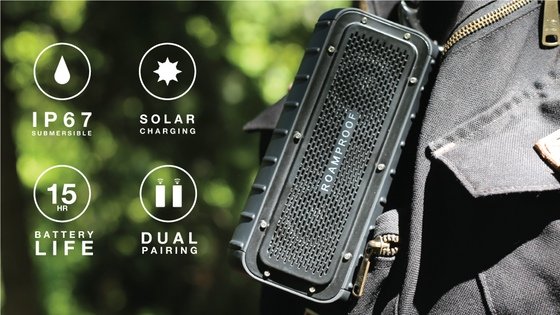 This last one does;t exactly seem like essential gear, so we'll file it under luxury, except it does have one solid application in that it can charge other devices.
The Macro Boom is a solar powered bluetooth sound system that can daisy chain, meaning it can link through wireless connection, to other Macro Booms to provide surround sound in an outdoor setting. It also comes with a USB port and cable, which allows for the aforementioned recharging. So, you know, while you're streaming Willie Nelson for your fellow backpackers, you can also juice up later on. You'll only pay around $125 for this one, making it competitive with other such systems.
We hope this list helps in your endeavors become the earliest of early adopters among your outdoor-crazy friends.
Photo credit: Flickr
25 Great Camping Gadgets
Princeton Tec Helix Backcountry

The Princeton Tec Helix Backcountry is a great camp light for several reasons. Its design allowed the light to compress into a tight package. There were no buttons to accidently turn on and drain the battery. It could hang or be raised off the ground very easily. And the honey comb feature easily dispersed the light. Overall, this light is a winner. MRSP $109  

YETI Rambler Colster

There are beer koozies and then there are super beer koozies. The engineers at YETI Coolers have taken the koozie to the next level with its spece-engineered Rambler Colster. Using a thermolock gasket and double walled vacuum-insulation this device takes keeping your beer cold to extreme levels. Never again will your hand be cool and your beer warm. Never again! MSRP $30 

LifeStraw Go

The LifeStraw utilizes a hollow fiber membrane, a technology found in kidney dialysis machines and other medical equipment. The LifeStraw filters out bacteria and protozoa. Just stick the straw right into a water bottle or straight into a stream. New this year is the LifeStraw Go attached to a water bottle so all you have to do is tilt and drink. No boiling required. MSRP $35   

EnerPlex Packr

Yet another company offering portable power, EnerPlex provides a range of solar panels and battery packs. One that caught our eye is a backpack with integrated solar panels called the Packr. While most providers suggest simply hanging the panels over a pack, EnerPlex has device a back with built-in panels Packr. At just 3 watts, these panels won't power anything huge, but they can certainly keep your camera, GPS or radio in operation. MSRP $100

Evernew Appalachia Set

For a camp stove that builds off an old-fashion design and light-weight construction we especially like the Evernew Appalachia Set. It combines a traditional Swiss Army alcohol stove with a titanium design that's completely self-contained within a coffee mug. This super-light camp stove and a small amount of fuel is all you need for comfortable camping. MSRP $150

Goal Zero Sherpa 50

Goal Zero has been a leader in portable power since 2006. Offering a full range of portable solar panels and battery packs, we found the Sherpa 50 to be the lightest and most practical for an actual backpacking trip. If you need a device to recharge video cameras and laptops this device is lightweight and efficient. Partner it with the Nomad 13 and you're in business. MSRP $429 including panels 

Celestron Elements Thermocharge

One of the coolest products out there is the Celestron Elements ThermoCharge. This handheld device serves as a flashlight, hand warmer and a charging device all-in-one. Stick it in your pocket and have a renewable hand warmer. New on the market is a redesigned look that's more sleek and efficient than its predecessor. Coming soon from Celestron is a hand-warming flashlight, which also charges electronic devices. One grip on this and the heat just courses through your body. MSRP $30

Brunton Hydrogen Reactor

Along with a range of highly efficient solar panels and portable battery packs, the most compelling offering from Brunton remains its portable Hydrogen Reactor. That's right, a portable hydrogen reactor. But don't worry about it blowing up like the Hindenberg. The compact Hydrogen Reactor is coupled with two Hydrogen Core cells. These cores, similar to batteries, can be filled with distilled water and charged before leaving the house. What you receive is much greater power than you would otherwise with the same charge. MSRP $150 

Merkwares EmberLit FireAnt

Here's a camp stove that takes minimalism to a new level. The Merkwares EmberLit FireAnt takes hobo stove to a new level. Using custom engineered titanium, this tiny wood stove focuses the heat and provides ample draw so that you can cook on the smallest fires. This stove also packs up into the size of a few playing cards. $70 

Light My Fire Swedish Fire Steel

The Swedish company Light My Fire centers all their products around the campfire. That includes unique sets of camping utensils, containers and fire starters. One of their most unique devise is the Swedish Fire Steel. This easy-to-use fire steel produces a spark that can light a tinder bundle. Great for survival kits or as a general backup, and embedded in the steel is a whistle, so it saves space in your kit. MSRP $25 

Gerber Freeskate Camp Kitchen

Known for strong durable knives and quality craftsmanship, Gerber unveiled a set of camping specific knife-ware and gadgets under the Freeskate brand. Chief among them is a convenient Camp Kitchen cutting board and knife set. The board comes with two cutting knives, one for slicing and the other pairing, which fit conveniently into an insert. MSRP $88 

LED Lensor SEO 7R

There are lots of headlamps on the market to choose from, and we don't blame you for being hesitant. One that stands out for its sheer power and versatility is the LED Lensor XEO. But it weighs a full pound with the battery so it might not be for everybody. We found it's SEO 7R to be more than sufficient for most needs. MSRP $100

Kopateli Nirvana Packraft

If there ever was a product that spelled adventure it's the pack rafts by Kopatelli Packraft. Packing up into the size of a sleeping back, these lightweight rafts can be brought to life with an inflation sack. Its entry-level Nirvana model at 6 pounds 10 ounces, can handle up to class III rapids. An exceptional way to open adventures up to new terrain, these packrafts have the power to revolutionize your next backpacking trip. MSRP $725

SOG Switchplier

Known for tactical military and law enforcement knives for more than 30 years, SOG has been expanding its general hunting and camping knives in recent years. One utilitarian tool is the Switchplier 2.0. With pliers ready to go at a flip of a spring-assisted switch, you'll never be without a free hand. The tool also wire cutters, pocket clip, and a knife blade. 

Steripen

Miles Maiden had a background in solar technology when he invented the Steripen. Working with solar ultra-violet rays, Maiden understand that a certain spectrum of UV light known as UVC had the power to scramble the DNA of viruses, bacteria and protozoa. And the Steripen was born. Hold the device in suspect water 40 second for a half liter and 90 seconds for a full liter, with a built-in timer to keep track. The Steripen comes in several sizes and strengths, including two that contain rechargeable lithium batteries.  MSRP $50

Voto Charger

The Voto Charger is a clever device that turns your camp stove or BBQ into a power source, and features a fire-activated fuel cell. Just place it under the charcoal in your cook stove and it converts the carbon and hydrogen into electricity. The Voto generates enough power to charge a combination power pack for your devices. It also has an LED light unit that when fully charged provides about 30 hours of illumination. Photo courtesy PointSourcePower.com

Gorilla Torch

LED lights and flashlights are common, but Gorilla Torch is special, with knobby flexible legs that grip around a variety of objects from branches and tent poles to your head. With magnetic rubber-coated feet, the possibilities of where it can be mounted are endless, and the lamp can be dimmed. At only $30 it provides between 20-80 hours of light on three AA batteries. Photo credit: Flickr Creative Commons

JakPak

You never know what you'll need on a canoe trip or long hike, but JakPak is a three-in-one that starts out as a jacket with hood and collar, transforms into a sleeping bag, and can evolve again into a bug-proof swag style tent. Made from urethane-coated ripstop nylon polyester, it may not replace the traditional tent or sleeping bag but it's light enough to tuck and take when you head out from home base. Retails at $249.99. Photo courtesy JakPak

BioLite Stove

The revolutionary BioLite Stove uses things like twigs and pinecones you find on the trail for fuel, so you won't have to pack in fuel canisters, and it makes a lighter and cleaner way to cook. A big bonus is the heat generated from cooking is converted into electricity to charge up your gadgets and lights. The retail price is about $130. Photo credit: Joshua Gillem

Eton Scorpion

A true multi-tasker, the Eton Scorpion has a solar powered and hand-crank equipped AM/FM/NOAA weather band digital radio and LED flashlight combo that is also a charger for your phone. It's splash-proof and small enough to clip to your backpack with a caribiner. The clip also acts as a bottle opener. Priced at $59.99. Photo courtesy Eton Corp

Kitchen Sink

Roughing it still requires a large sized pot for doing dishes and bathing yourself. The collapsible waterproof Kitchen Sink container is light and folds up small into a little carrying case. It comes in sizes to hold from 5 to 20 liters of hot, soapy water. The 20 liter size costs $25. Photo courtesy REI

Power Pot

Cook and charge with the Power Pot - a lightweight thermoelectric generator that converts heat into DC electrical power. Simply fill it with water and place on a heat source to charge your devices. It has a standard USB port and three feet of flame-resistant heavy-duty wire. Power Pot can also run your speakers, lights, fans, and most other low-power USB appliances. About $149. Photo courtesy PowerPractical.com

Snow Lizard SLXTREME Smartphone Case

Waterproof up to 6 feet, the Snow Lizard lets you wade through creeks without worry about damage to your phone. It's made from a thick, dirt-resistant polycarbonate with rubber grips and has a built-in battery that is rechargeable using the solar panel on the back. You can go a little farther off the grid and still have spare battery time! Retail $129.99. Photo courtesy Snow Lizard Products

Tent LEDs

Tent LEDs provide Cool lights to attach to tent lines and provide ambient light. Just snap them on to the lines and never trip in the darkness again. Flickr Creative Commons

Concentrated Beer

Maybe this isn't exactly a gadget, but it's too much fun to leave off the list. Pat's Backcountry offering of concentrated beer is a specially fermented powder beer that's supposed to be as tasty and as alcoholic as a micro brew. When your camp dinner is done and it's time to kick back and do some star-gazing, this could be quite the treat. Flickr Creative Commons