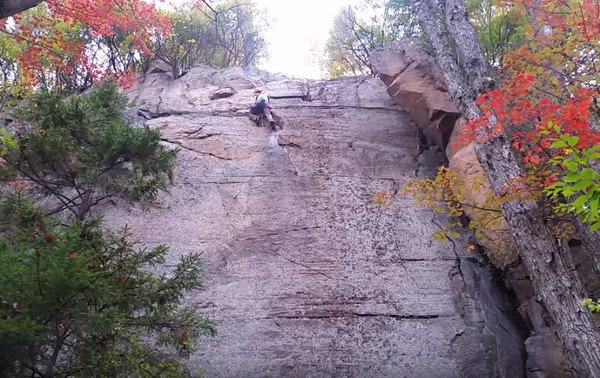 In rock climbing, a whip is when the climber falls off the rock and catches by the rope holds, forcing a violent whipping action. It puts a great deal of strain on the line but ultimately keeps the climber from plunging to his death.
The following video posted to Youtube by Matt Rhodin shows his friend John climbing Eagle Falls in upstate New York when suddenly he loses his balance. John takes such a severe whip on the fall that it pulls out the temporary cam hold — a tension device that should hold under pressure but doesn't — and he goes plunging toward the ground some 30-40 feet below.
Luckily for John, the more permanent bolt hold about 10 feet below and the on-point belaying by his partner saves his life. But it's just in the nick of time as he really had just inches to spare. This is one close call no rock climber wants to ever duplicate.