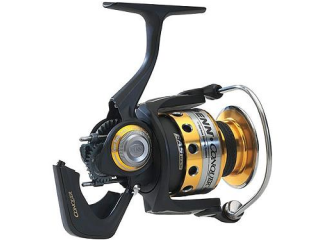 It can be a daunting task for a fisherman to find a reel that possesses all the desirable features that are extremely necessary to withstand the demanding and sometimes brutal conditions on the water, as well as continue to perform at optimal levels. For instance, a reel may be designed to hold braided line but its frame may not be made of materials strong enough for what the angler intends. Well, if you've ever stood at your local retailer, trying to decide which reel's limited features will have to do, your prayers may have been in answered, and then some, by Penn's Conquer spinning reel.
Available in a variety of sizes to suit any fishing style, the Conquer is Penn's solution to virtually every problem one may encounter while searching the market for a reel that meets all their needs. It has many features that put it ahead of the curve and allow it to catch any angler's eye, as well as any fish they want to pull into the boat. The most noticeable of these features is the textured, rubber ring that spans the circumference of the anodized aluminum spool, and is designed to hold touch braided line without the need for monofilament backing.
The Conquer's Eternal Alloy spool lip–exponentially stronger than titanium alloy, steel, and aluminum–is built to endure any degree of corrosion, stress and physical damage that accompany a life on the water, which allows it to preserve the ability to cast long distances. Furthermore, the Eternal Alloy parts are not coated with the material, like many other reels, but rather completely constructed of the Alloy, making them infinitely stronger and longer-lasting than their counterparts.
The Conquer also boasts ten stainless steel ball bearings, one-piece machined aluminum gear box, and infinite anti-reverse, all of which augment its effectiveness as a top performer under any circumstances. However, as practical and impressive as all of these traits may be, the Conquer's most unique and revolutionary feature is the one that completely places it in a class of its own among spinning reels: the Easy Access System. The Easy Access System, or EAS, is defined as a hatch that can be opened via small screws and provides access to the vital internal parts for easy lubrication and care. Each part is securely contained within the gear box, which can be opened in a matter of seconds, reducing the risk of losing any key components during maintenance. Add to all this an easily affordable price tag of around two-hundred dollars, and you have a reel that no angler can afford not to have among their arsenal.
Fishing reels must be able to bear harsh weather conditions, constant abuse, and the constant stress of continual use, all the while maintaining top performance standards. Anglers will also look for their reels to possess features which accommodate their lifestyle and needs on the water. Whether you're the most weathered saltwater enthusiast or a hardened freshwater angler, the Penn Conquer's innovative Easy Access System, durable materials, and unique braided line spool are just a few of this impressive reel's traits that make it a force to be reckoned with and a must-have among your arsenal.