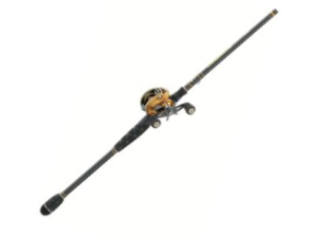 Over the years, graphite has come to be synonymous with strength and sensitivity, in regards to fishing rods. Brands such as St. Croix and G. Loomis, two companies known for some of the highest quality rods and warranties available, provide consumers with a wide variety of rods consisting of the best graphite money can buy. These companies may have some competition, however, in the form of Bass Pro Shops' revolutionary rod known as the CarbonLite.
Debuting a few months ago, the CarbonLite is available in several one-piece spinning and casting models and boasts a myriad of characteristics that have become more popular over the last few months. From its handle material to its guides, the CarbonLite's features make it a force to be reckoned with and a treasure for any angler's collection.
I'll begin with the obvious: the groundbreaking carbon-fiber rod blank that gives the CarbonLite its moniker. The carbon-fiber blank is every bit as responsive and durable as its graphite competitors. Though, if any skeptics out there would like a mental comparison, it equates to an eighty-five million modulus graphite blank.
The CarbonLite's split-grip handle is a thing of beauty that any fisherman will instantly fall in love with. Not only does it provide leverage for strong, two-handed casting, but the EVA poly-foam grip is durable, lightweight, and comfortable, with a bridgeless reel seat that adds more direct contact with the rod blank. Combine all that with a sleek design with subtle accents for aesthetic appeal and you have a handle that feels less like a piece of equipment and more like an extension of your hand.
Now, along with the powerful, yet sensitive carbon-fiber blank and comfortably durable split-grip handle, the CarbonLite utilizes guides comprised of stainless steel frames, with titanium carbide inserts, allowing them to withstand nearly anything you can put them through. Furthermore, the guides even possess a PVD (Physical Vapor Deposition) coating which make them smoother casting, as well as resistant to scratches and nicks. This makes the guides optimal strong enough to handle braided and fluorocarbon lines, but forgiving enough for the lightest of monofilaments.
While the innovative carbon-fiber blank, impressively comfortable and durable handle, and high-quality guides are awe-inspiring traits, they all pale in comparison to the CarbonLite's top selling point: its weight. Even with the strength and reactivity of an eighty-five million modulus graphite rod, the CarbonLite weighs in under 4oz! That alone will reduce the strain on your wrist and arm throughout a day on the water, but if you were to then combine it with a lightweight reel, then you have a recipe for pure endurance. Top it all off with an easily affordable $89-$109 price tag, and you'd be kicking yourself for letting such an excellent rod go this long without a place in your boat.
I personally own a seven-foot, medium action CarbonLite, paired with a Pflueger Supreme XT, which has a magnesium frame, and I can fish for hours upon hours without any discomfort whatsoever. I bought the rod the very week they debuted in stores and have been a strong advocate of its effectiveness and comfort from day one. I urge anyone looking for a lightweight, affordable rod that still performs at peak levels and holds up to whatever wear and tear you can throw at it to visit your nearest Bass Pro Shops and spend a little time with the CarbonLite. Believe me when I say that after a few seconds, you'll be hooked.