When Sheriff's deputies in the Florida Keys came up on the capsized hull of a 22-foot boat where the three teens they were looking for sat perched above the water line, it was an incredible relief.
With just an hour before sunset, Monroe County Sheriff's office Marine Deputy James Hager said it could have been disastrous.
"They are so, so lucky," Hager, who helped rescue the teens told PEOPLE magazine. "If we hadn't found them by sunset it might have been a different story."
The boys, two 18-year-old and a 16-year-old from Orange County, California, had rented the 22-footer that afternoon and were about three miles off Little Torch Key when they anchored in about 30 feet of water. They reported the boat started taking on water and by the time they cut lose of the anchor line the boat had capsized, according to the Monroe County Sheriff's Office.
Fortunately they had enough time to call for help on their cell phone which also gave authorities their position. What they had forgotten, however, was to don their life jackets, which became stuck under the hull when the boat finally flipped over.
The boys did what is advised in such situations, which is to stay with the boat as long as possible. As long as the boat is visible, rescuers have the best shot at finding you if you stick with the vessel. With swells at 3-to-5 that afternoon, rescuers still had trouble spotting them. Hager said they probably should not have been on the water that day at all.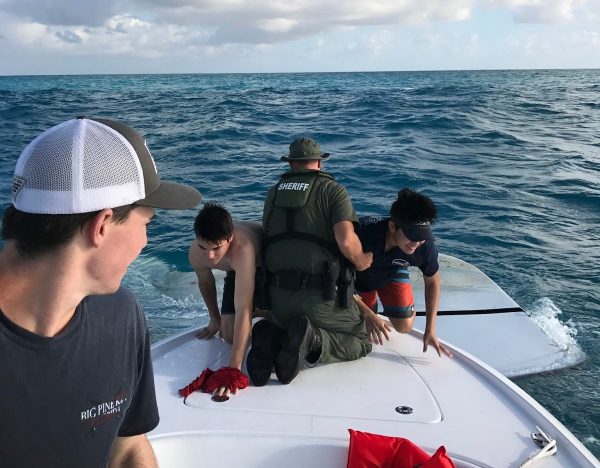 When they finally made contact just an hour before sunset, both rescuers and the boys were incredibly relieved. Following the incident the teens spoke with reporters over video conference to express their gratitude. One of them posted about the rescue on social media.
"Make sure your bilge works before you run 5 miles offshore and realize its to late… other than that great day on the water," the teen tweeted.
Rescuers were especially relieved to make the discovery before sunset, recalling the less fortunate fates of 14-year-olds Perry Cohen and Austin Stephanos last year.
Make sure your bilge works before you run 5 miles offshore and realize its to late… other than that great day on the water
Photo credit: Monroe County Sheriff's